(Scroll down for the English version)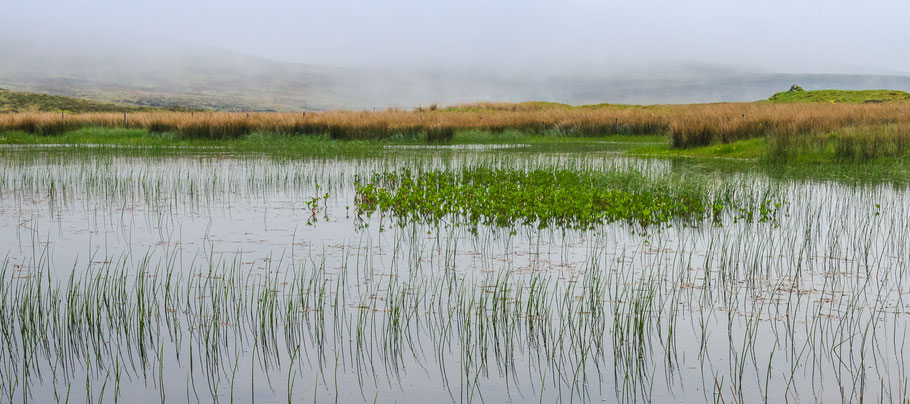 Tiefhängende graue Wolken krochen über den Boden und fraßen die Landschaft. Wo eben noch Schafe auf grünen Wiesen weideten, bewacht von kleinen Häuschen, die sich an die sonnenbeschienenen Berghänge drückten, breitete sich plötzlich das große Nichts aus. So sehr sich das Auge auch bemühte, das Grau zu durchdringen, es fand keinen Halt mehr. Schafe, Häuschen, ganze Berge waren verschwunden. Doch kurz darauf zog die Nebelwolke genauso eilig weiter und gab den Blick wieder frei. Dann lag die Landschaft plötzlich im milchigen Sonnenlicht.
Wir beobachteten das faszinierende Schauspiel aus dem Autofenster auf unserer zweiten Fahrt nach Skye. Im Vertrauen auf die Zuverlässigkeit der Wetter-App waren wir aufgebrochen, um einer Empfehlung zu folgen, die uns zwei einheimische Mädchen zu Füßen des Old Man gegeben hatten. "You have to see Quiraing! It's so beautiful! If you tell people, you went to Skye and did NOT see Quiraing, they will say you are insane!" Na, das wollten wir dann doch nicht riskieren. Das Wetter würde schon irgendwie mitspielen.
Also lenkten wir das Auto zunächst zum zweiten Mal über die langgezogene gebogene Brücke auf die Insel und beobachteten fasziniert, wie sowohl Wasser als auch Land plötzlich verschwanden. Es sah aus, als führen wir mutterseelenallein auf der Welt diese schmale Stahlkonstruktion entlang. Umgeben von weißem Nichts und mitten hinein ins Nichts… Doch gerade rechtzeitig tauchte dann die Insel vor uns aus den Wolken auf. Unser Weg führte uns am Old Man of Storr und dem Kilt Rock vorbei nach Norden, und schließlich gelangten wir zu dem Parkplatz an der kleinen Straße zwischen Staffin und Uig. Hier konnten wir wiederum gar nicht schnell genug aus dem Auto stolpern.
Was für ein Anblick! Blauer Himmel über bizarren Felsformationen. Aber das Spannendste: Über die Felsen flossen weiße Wolken ins grüne Tal hinab. Wie ein überschäumender Kochtopf sah es aus.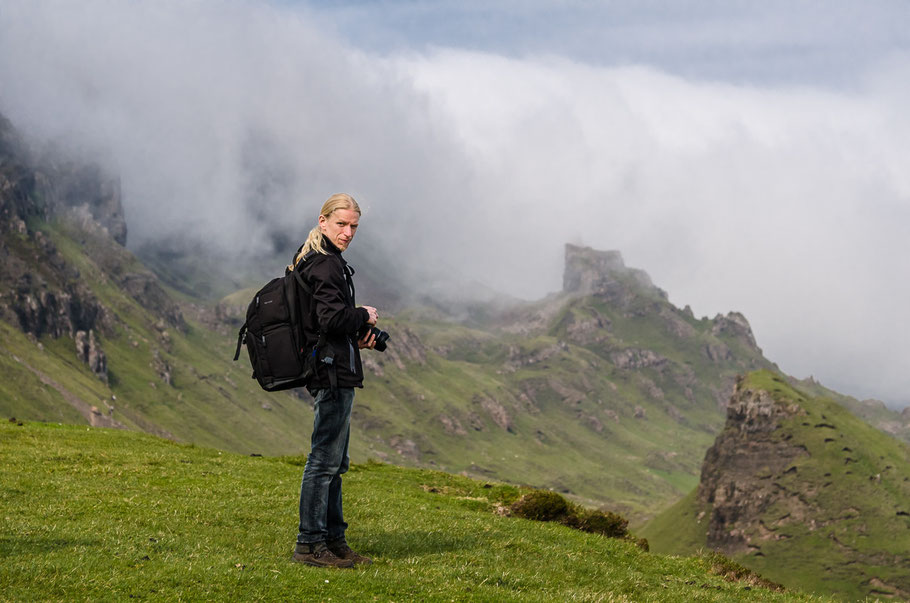 Fotos können das Spektakel kaum wiedergeben, Zeitrafferaufnahmen wären optimal. Wir nahmen die Aussicht eine Weile in uns auf, bevor wir uns auf den Weg machten. Hinein ins Felsenlabyrinth. Der schmale Pfad durchquerte steile Hänge, auf denen unerschrockene Schafe weideten. Über uns ragten schroffe Felskliffe auf, und überall auf den grasigen Abhängen zeugten herabgestürzte Felsbrocken von der Macht der Naturgewalten. Kleine knorrige Bäume trotzten der Schwerkraft und klammerten sich mit ihren Wurzeln oberhalb von Felsabbrüchen an allem fest, was sie finden konnten.
Während wir den Pfad entlangliefen, ergaben sich durch die Gesteinsformationen hindurch immer wieder neue spektakuläre Ausblicke über das Land. Wir überwanden eine kleine Kletterstelle und drangen tiefer in das Herz des Quiraing vor. Immer dichter zogen sich jetzt die herabsteigenden Wolken zusammen. Als wir zu Needle und Prison kamen, wanderten wir schon durch dichten Nebel. Düster ragten die Felstürme neben uns auf. Das Tiefland war nicht mehr zu sehen. Wir hatten inzwischen wieder die wind- und regendichten Jacken angezogen und schützten uns gegen die aufziehende Kälte. Nach dem Anstieg auf einem rutschigen Schotterhang, hinter dessen Kuppe ebenfalls nur noch Nebel zu bewundern war, beschlossen wir umzukehren. Eine kleine Höhle unter einem Felsen mit kleiner Schutzmauer drum herum würde uns zwar im Notfall Unterschlupf bieten, aber wir waren nicht allzu erpicht darauf.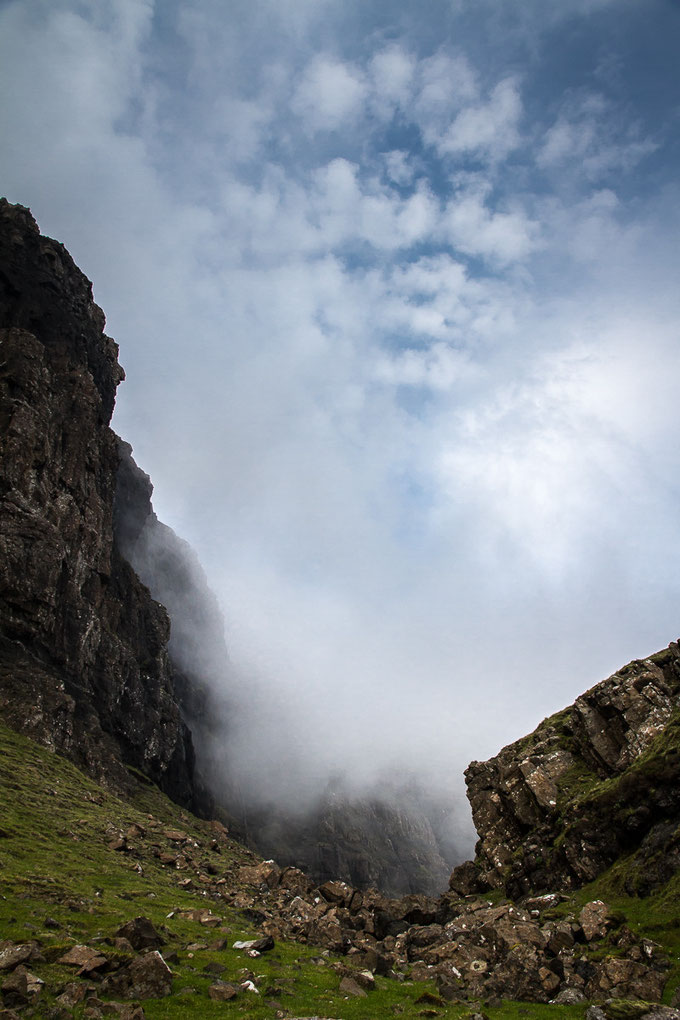 Auf dem Rückweg tauchten plötzlich in den Wolken vor uns einige Schafe auf dem Pfad auf. Zwei Böcke hatten sich ausgerechnet diese Stelle ausgesucht, einen Zweikampf auszutragen! In der Stille des Nebels ertönte laut und unwirklich das Knallen der zusammenstoßenden Hörner. Irgendwann hatten sie jedoch genug davon, sich vor kameraklickenden Zuschauern die Schädel einzurammen und trollten sich.
Während wir weiter zum Ausgangspunkt zurückliefen, lösten sich die Wolken langsam auf. Die sanft hindurchscheinende Sonne tauchte die Landschaft in ein faszinierendes silbriges Licht. Es war wunderschön. Und nach und nach kam auch das Tiefland wieder zum Vorschein.
Als wir wieder am Parkplatz ankamen, wurden wir von Rettungskräften angesprochen. Anscheinend war ein Mitglied einer größeren Gruppe auf dem oberen Weg im Nebel verschollen. Einige Rettungstrupps waren bereits beladen mit Erste-Hilfe-Ausrüstung in hohem Tempo die grasigen Anhöhen hinaufgerannt. Hoffentlich hatte deren Geschichte ein gutes Ende.
Unsere war jedenfalls die eines wunderbaren Wolkenspaziergangs.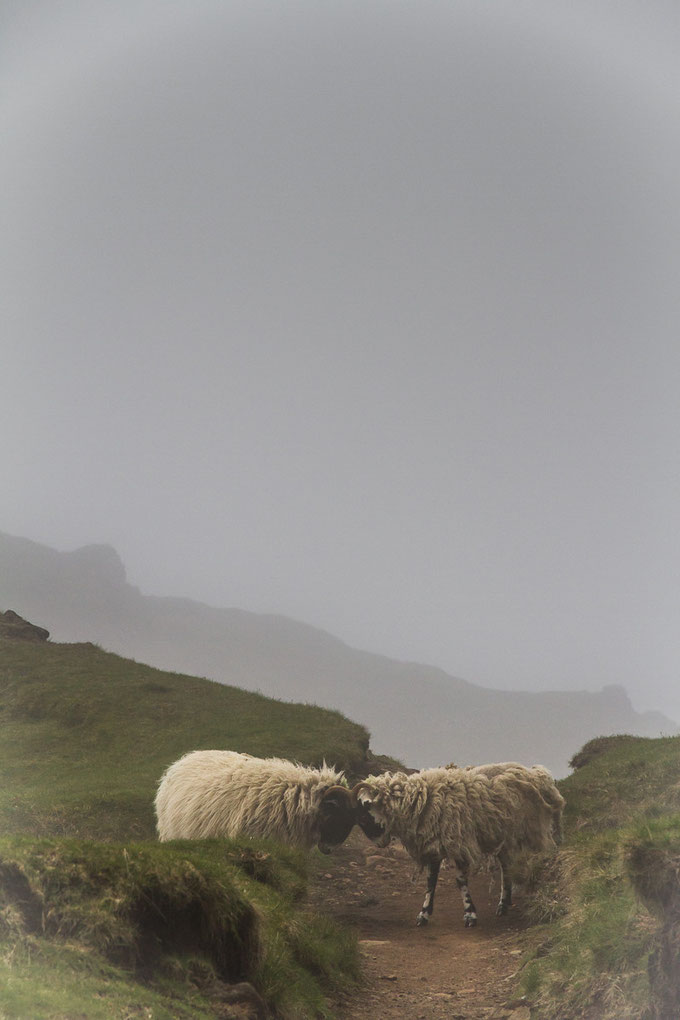 Rank 3: Quiraing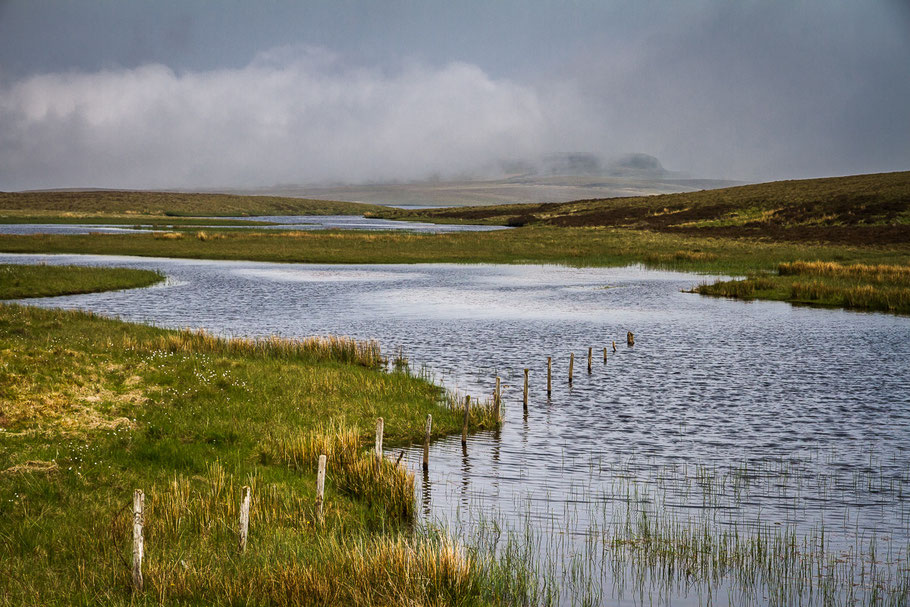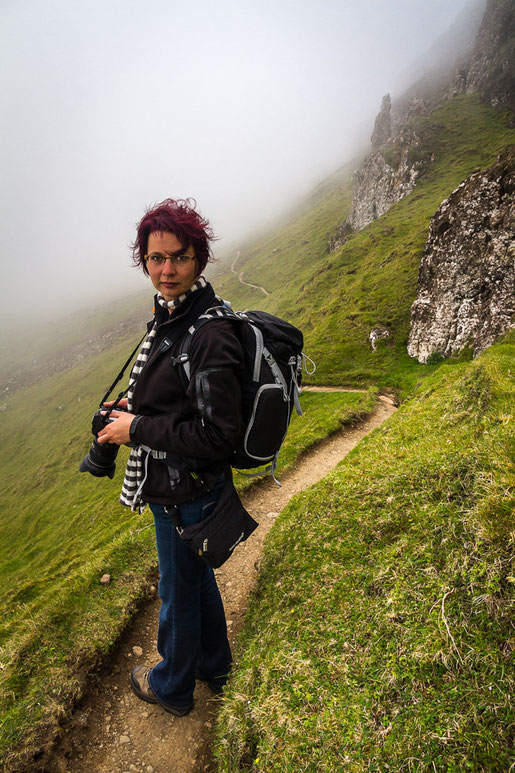 Low-hanging gray clouds crept across the ground devouring the landscape. Where just a moment ago sheep had grazed on lush, green pastures, watched by small cottages nestling up against sunlit hillsides, all of a sudden a vast void spread. Try as one might, there was no way to pierce the wafting gray, nothing to give hold to one's gaze. Sheep, cottages, entire hills had just vanished. But just a few seconds later the fogbank moved on fluidly, giving up its clutch on the land and the eyes. The countryside spread before us in milky sunlight.
We watched this fascinating spectacle from the car windows on our second trip to Skye. Trusting the accuracy of the weather app, we had set out to experience for ourselves if the two native girls we had met at the foot of the Old Man of Storr might have exaggerated when they'd told us: "You have to see Quiraing! It's so beautiful! If you tell people, you went to Skye and did NOT see Quiraing, they will say you are insane!" We definitely didn't want to risk being scoffed at for missing the most spectacular part of Skye and a great opportunity for unforgettable pictures. Now we just needed the weather to oblige.
So for the second time we crossed the stretched out bridge onto the island, watching sea and shore vanish unanimously in the mist. It appeared as if we were the only living beings in all of the world suspended in white clouds by this narrow steel structure. Gliding through white nothingness into more of the same. Just when we began to doubt we would ever reach the substantial world again, the island emerged from the clouds before us.
We passed the Old Man of Storr and Kilt Rock on our way north, reaching a small parking space by the roadside between Staffin and Uig. Here, we couldn't get out of the car quite fast enough for fear of missing the magnificent display of nature's beauty before us.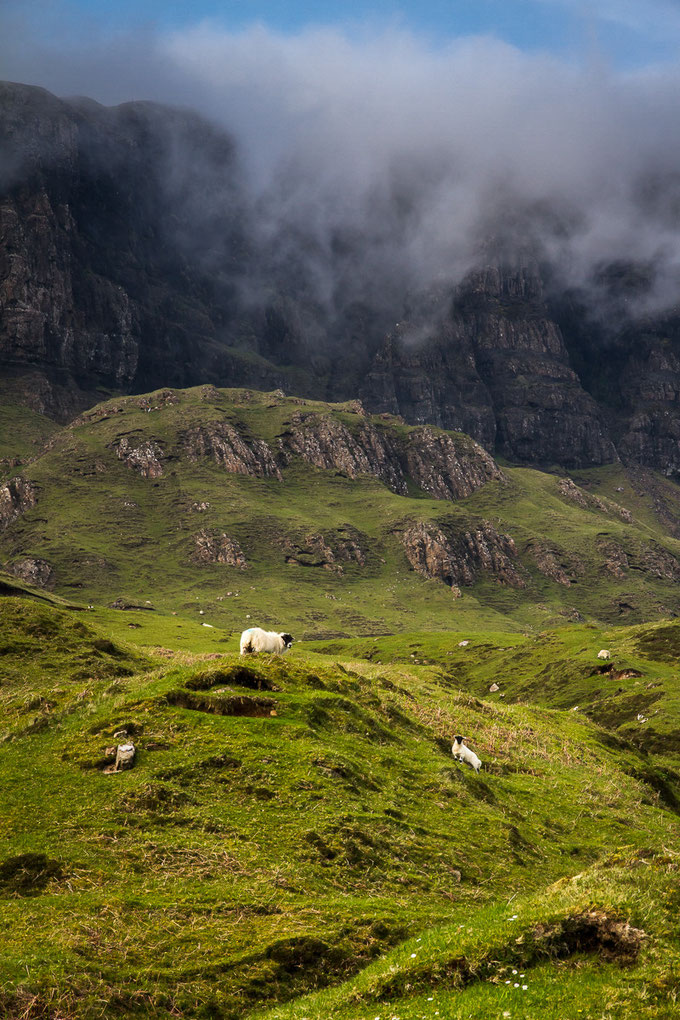 What a breathtaking sight! From azure skies white clouds cascaded over bizarre rock formations down towards us into the green valley. Like an otherworldly cooking pot boiling over. Photographs can barely do these spectacular "cloudfalls" justice. Accelerated movie captures would convey the majestic impression a lot better. We absorbed the view for a long time before starting on our hike into the rock labyrinth. The narrow path meandered between steep slopes where fearless sheep grazed. Above us loomed jagged cliffs while all around us on the grassy hillsides fallen rocks bore witness to the daunting forces of nature. Small gnarly trees defied gravity, clinging to the bare ground above rock falls with their strong roots.

Walking along the path, ever new jaw-dropping vistas presented themselves to us, framed by the wondrous geological formations around us. We surmounted a climb through a small gorge making our way deeper into the heart of the labyrinthine Quiraing. The clouds spilling over the cliffs above us grew thicker and thicker. When we reached Needle and Prison the two rock towers looming dark from the dense fog were more foreboding than real. The lowlands were invisible. We had donned our soft shell jackets and raincoats to protect ourselves against the damp and cold. After ascending a slippery gravel slope only to discover impenetrable fog beyond its summit we decided to turn back. A small cave below a flat lying rock, protected by a makeshift wall could probably shelter us in case of an emergency, but we weren't all too anxious to try.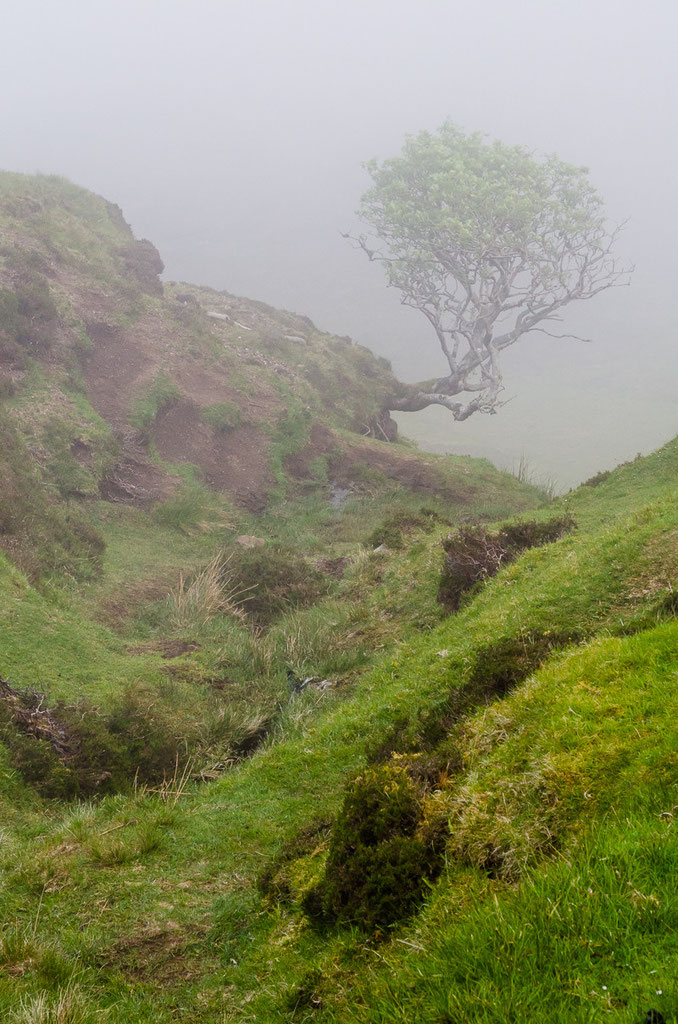 On our way back, suddenly some sheep emerged from the clouds right in front of us. Two bucks had decided to fight a duel right there in the middle of the narrow path. In the silence of the foggy hills the bang of the horns crashing together sounded loud and surreal. Some more rough cracks later the fight witnessed by a couple of eager photographers ended – somewhat anti-climactic - without a clear winner.

While we headed back to the starting point of our tour into the wilds of the Quiraing, the clouds slowly dissolved again. The sun filtering softly through the mist bathed the landscape in a fascinating silvery light. It was like walking through a fairy tale. Ever so slowly the lowlands reemerged in the misty distance.
When we reached the parking space again we were approached by a search and rescue team, who were looking for a member of a larger hiking party that had strayed in the fog somewhere in the upper reaches of the labyrinthine Quiraing. Already, some paramedics carrying heavy first aid kits had hastily climbed the grassy slopes. Hopefully, their story had a happy ending!
In any case, our story was that of an enchanted waltz through the clouds.